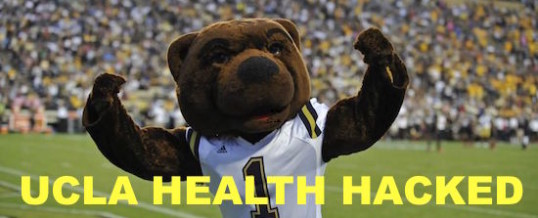 UCLA Health, which operates hospitals on four university's campuses, had their computer systems hacked and it appears data of around 4.5 million individuals information could have been stolen. UCLA Health is working with the FBI as well as private computer forensic experts to investigate the  cyberattack.
The suspicious activity on the network goes back to October 2014 and UCLA Health IT started to take notice.  The attackers obtained access to parts of the UCLA Health network that contain personal information that includes; names, addresses, dates of birth, Social Security numbers, medical record numbers, Medicare or health plan ID numbers and some medical information.
UCLA Health stated "At this time, there is no evidence that the attacker actually accessed or acquired individuals' personal or medical information. Because UCLA Health cannot conclusively rule out the possibility that the attackers may have accessed this information, however, individuals whose information was stored on the affected parts of the network are in the process of being notified."
The four hospitals on two campuses includes; Ronald Reagan UCLA Medical Center; UCLA Medical Center, Santa Monica; Mattel Children's Hospital UCLA; and Resnick Neuropsychiatric Hospital at UCLA.  They also operate more than 150 primary and specialty offices throughout Southern California.